There have been many vehicles that have caused an aversive reaction within me. Past offenses have been Hummers, Aztecs, Ponys and multiple sports cars (such as Ferraris and Corvettes). However, the recent offenders are as follows:
1. The Smart Car: Who cares if it is environmentally friendly and gets good gas mileage. It's damn ugly and looks like a death trap.
2. Scion xb: I saw these all over California. I thought they were "lowered" until I realized they were made that way. Ugh.
3. PT Cruiser: Nothing needs to be said about this car, except maybe "UGGGLY."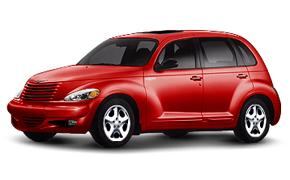 4. Dodge Magnum: This car reminds me of a souped up hearse.
Honorable mention: the Dodge
Caliber
Dani, looks like you win. The prize will be another Aisy mixed CD. I agree that most all Dodge vehicles are on the list of "damn, that's ugly."
So, here is my short list. What's yours?